Ann Dvorak Goodies From the Upcoming Morris Everett Auction
As a hardcore collector of all things Ann Dvorak, there is one place I regret not travelling to in my quest to be a Dvorak completest. That place is Cleveland. For it is in Cleveland that Morris Everett and his massive collection of lobby cards reside.
My understanding is that Mr. Everett attempted to collect a lobby card from every American film ever made, and that he came pretty damn close. Last year he tried to sell the collection as a whole through Profiles in History, but no buyers came forward. Now, the first round of individual lots is set to go up for auction at the end of the month, and wow, just wow. The items are beyond description.
Before we get started with what is going to be available, I feel the need to point out that there is nothing from The Strange Love of Molly Louvain. This title has eluded me for almost twenty years. I have plenty of photos from it but have never seen any paper. Since this is the one of the few films Ann is the bonafied star of, she must be on most if not all the lobby cards. I may never know, because I have never seen a single lobby card from this title. Even on the press book fails to uncover this mystery!  When the whole collection was up last year, there was an un-illustrated list of film titles and Molly Louvain was absent, so I am not expecting to see it at a future auction.If Morris Everett never found one, Molly Louvain lobby cards may forever remain my Ann Dvorak holy grail.
So no – no Molly Louvain, but there are a few goodies. The opening bids are already beyond my realm, but the items are still gorgeous and worth sharing.
First off is this stunner from Love is a Racket:
Unfortunately, it's included in a lot with 13 unrelated lobby cards I have no interest in, with a starting bid of $600. If it were this one card for a couple hundred, I might be tempted, but paying that much for a bunch of cards I don't want is not in the cards for me.
Next is a lot of five cards from Midnight Court.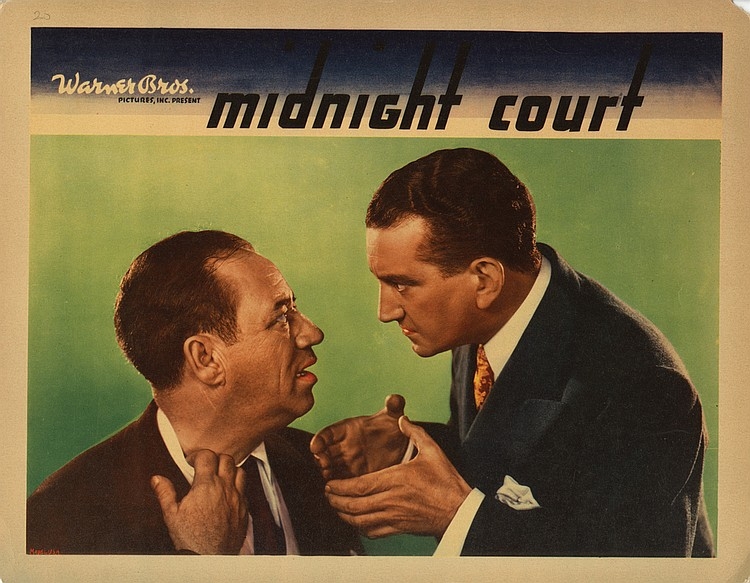 Ann is only on two of them, and I already own the title card. With this film, I am only interested in cards with Ann, and while the portrait shot is lovely, do I really want to pay $200+ for it?
Then we have this honey of a card from Hollywood Revue of 1929.
This one is very tempting, but I just don't think I can do the $400.
Then we have the be-all-and-all for me. FIVE cards from Three on a Match, including the title card!
Ann is only on two of the four scene cards, one of which I already have. However, Three on a Match is one of those films that I will take anything on, even if Ann is absent. Starting bid is $1,500 which isn't outrageous, but something tells me this one is going to go for a hell of a lot more.
In a nutshell, I never went to Cleveland and will be sitting this auction out. The entire list of lots is worth taking a look at with some crazy titles like Metropolis, Citizen Kane, King Kong, Freaks, Casablanca, etc., etc., etc. True works of art that will hopefully find good homes.
And just in case you were wondering, my birthday is in January.
Happy bidding!
UPDATE 6/22: Online bidding for these auction is over at the Invaluable site.