Ann Dvorak and NOT Raquel Torres on the Beach
Year of Ann Dvorak: Day 2
When Ann Dvorak was an uncredited chorus girl at MGM, she spent most of her off-time soaking up the sun at the beach. This love affair with the Pacific Ocean would last her entire life, and she ultimately resided in both Malibu and Honolulu.
One sunny day in 1931, MGM photographer Clarence Sinclair Bull accompanied Ann and an0ther contract player to the sandy shores and snapped some publicity shots. Seven decades later one of these photos, provocatively showing the women with their tops pulled down and backs facing the camera was published on a mass produced postcard. While Ann was correctly credited on the postcard, the other gal in the photo was erroneously listed as Raquel Torres. In fact, the other bathing beauty was Marjorie King.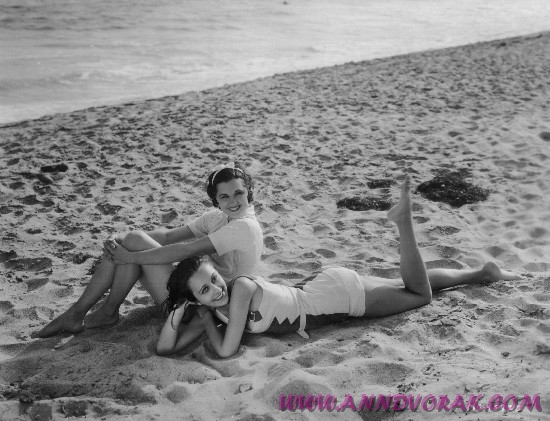 Over the past decade, the photo has made the rounds online, with many appearances through various social network platforms. Unfortunately, most of the time the image is listed as Ann & Raquel instead of Ann & Marjorie. When looking at photos of both women, it's pretty clear who is sharing the sand with Ann.
Neither Torres or King had much of a career in Hollywood, with both opting for marriage over acting. However, both made a small contribution to pop culture, with Torres memorably appearing  opposite the Marx Brothers in Duck Soup, and King allegedly inspiring the creation of a cocktail known as the Margarita.
The photo proved just to be as alluring in 1931 as it was today when it was used on the cover of a South American magazine called Cine-Mundial . This was probably Ann's appearance as a cover girl. While they spelled her name Devorak, at least they got Marjorie right.