On January 20, 2011 by
Christina Rice
With
3
Comments -
TV Screenings
Scarface is going to air on Turner Classic Movies on Friday, January 21st at 6:30pm PST.
Ann Dvorak appeared in 53 feature films (not counting her appearances as a child-actor and chorus girl). Some are lousy, others merely watchable, and a few are damn good. In my humble opinion, the one that stands above all the others and is a truly great film is 1932's Scarface.
Directed by Howard Hawks,  produced by Howard Hughes, and starring Paul Muni, Scarface is legendary for the censorship battles it sparked between Hughes and the Production Code Administration, as much as it is for being one of the quintessential gangster flicks of the early 1930s.  Also, this was the film that spawned the 1983 Brian DePalma movie of the same name, starring Al Pacino. Scarface is also the first film Ann Dvorak was cast in as an actress as opposed to an extra or member of the chorus.
When watching the film, it's hard to believe this is the first time Ann really acted on screen, and that she was barely twenty years of age. She more than holds her own with Muni, who was already an accomplished stage actor, and her scenes with an equally effective George Raft are electrifying. Her death scene could have been melodramatically comedic, but instead is quite convincing. With her heavily char-coaled eyes and teased up hair, she is never quite this striking looking in any other film.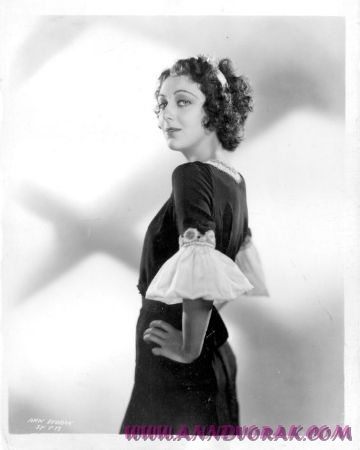 The censorship issues with Scarface delayed the film's release for a number of months and unfortunately, the first movie bearing the name "Ann Dvorak" was not this one, but Sky Devils, a not so funny comedy starring Spencer Tracy and featuring rehashed flying footage from Hughes' Hell's Angels.
Scarface is definitely "Ann Dvorak 101," so if you haven't seen this one before, set your dial to TCM and enjoy the debauched ride.