On February 21, 2009 by
Christina Rice
With
0
Comments -
Collection Spotlight
Last weekend, I spent Valentine's Day at a movie memorabilia show in Burbank, while my hubby was busy hosting panels at a Doctor Who convention (romantic, huh?).  After nearly twelve years of collecting Ann Dvorak ephemera, I usually walk away empty handed from these events, or with a scene still  I probably already own. This time around, one of the dealers actually had a nice piece that I had never seen before, a Midnight Court window card. I have not uploaded a photo of it onto the site, but the artwork is pretty much identical to the titled card posted above.
As I walked around the room with my big score, an acquaintance stopped me to take a look at the card. His instant response was, "beautiful artwork, but it sure looks similar to one of Bette Davis' posters." Simultaneously,  my collecting-partner-in-crime, Darin, and I blurted out "It's the same art as The Girl From Tenth Avenue!" (welcome to the world of movie geeks).  Even though I have owned the Midnight Court title card for years and have it hanging up at home, it never occurred to me that Warner Bros lifted the art from the 1935 Bette Davis feature, flipped the image,  replaced her head with Ann-D's, and used it to to promote the 1937 release.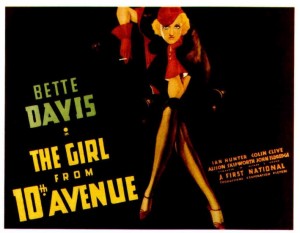 This probably was not the first time a studio recycled artwork (MGM one-sheets from the late 1930s tend to look really similar), but switching out Bette's head for Ann's is pretty blatant.  This just goes to show that:
a) Warner Bros really could be that cheap
b) Warner Bros had officially given up on Ann's career
Actually, Ann's employment with Warner Bros had been terminated in December of 1936, so it's amazing they even bothered promoting her for the March 1937 release of Midnight Court.
If anyone out there knows of similar instances when a studio cheaped-out and used the same artwork for different films, please feel free to share in the comments.